Appliance Polymers
Fairchild Industries has provided rubber & plastic trims, hoses, and components to appliance manufacturers for more than 50 years. Fairchild strives for excellence in providing quality-focused, cost-effective solutions, including a variety of rubber hoses made of thermoplastic Santoprene, which secure water passage to the washing machine. Additional products include edge trims, seals, and other custom parts that help maintain the proper performance, maintenance, and safety necessary for the equipment to perform in the public.
Fairchild Industries excels in providing extruded and molded rubber & plastic focused solutions and engineering services to a variety of customers in the appliance industry. To gather more information about our rubber & plastic molded and extruded products and services, please use our search tools or click this link to Request a Quote.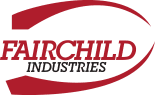 Designed in the USA.
Sourced with our customer in mind.