Automotive OEM and Aftermarket Weatherstrip and Closure Seals
Fairchild Industries' primary customers include: OEM, tier 1, tier 2, tier 3, and restoration and crash market distributors. Fairchild stocks thousands of skus and frequently develops additional automotive parts, covering a wider range of vehicles. The automotive catalog is primarily dedicated to belt weatherstrips, window channels, door seals, vent window seals, and window seals.
Fairchild develops custom parts, not limited to those found in the catalog, including: cross-member bushings, polyurethane bushings, engine mounts, shift boots, fender flares, heater hoses, latex seals, and more. In-house automotive engineers specialize in reverse-engineering products to ensure a specific, high-quality fit, while striving to improve upon the current OEM (original equipment manufacturer) parts. Click here to fill out an inquiry or here to request a quote.
Seals and weatherstripping are essential to preventing, noise, dust, water and other natural elements from entering vehicles. They often differ in the specific type of rubber they're made out of, how they're attached to the vehicle and where they fit. We offer:
Auxillary Seals improve performance by preventing elements from harming existing rubber weatherstripping.
Belt Weatherstrips (beltline moldings, beltline weatherstrips, window fuzzies, cat whisker, window felts). There are two beltline weatherstrips on each door. Inner belts run along the interior beltline of a door. Outer belts weatherstrips run along the interior beltline. 
Cowl Seals are seals that are located between the hood and the cowl or the windshield of a vehicle.
Door Seals (on body & on door) can be attached to the door or the body of the vehicle using clips, fasteners, tapes, glues or fit into a channel.

Hood Seals (engine compartment seals) are weatherstrips that manage air flow between the hood and the engine compartment.

Hoses: Fairchild Industries supplies a number of types of hoses used for various applications. These hoses include: radiator hoses, hydraulic hoses, heater hoses, induction hoses. Various materials are used to meet the specifications of each type of hose.

Trunk Seals (Rear Compartment Seals) are weatherstrips that rest on the trunk of a car, tailgate or rear storage area of an SUV or crossover.

Upper Reveal Moldings are exterior ornamental trims along the top edge of the door.
Vent Window Seals are weatherstrips that are used in vent windows that can be either moveable or fixed. 
Window channels (also known as glass run window channels, felt channels, division bar channels and quarter window channels) are located around the sides and top of a moveable door glass.
Window Seals, Windshield Seals, Rear Window Seals, Quarter Window Seals are rubber seals that encapsulate the glass which allows for a tight fit to the frame of the car.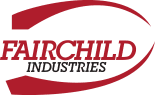 Designed in the USA.
Sourced with our customer in mind.