Precision from the point of design | Engineering design
Every manufactured part starts with a design. Our engineers utilize SolidWorks software for computer aided design and file conversion services to bring true precision to the design phase. As experts in rubber and plastic, we're used to designing parts with variable tolerances and volatile material environments. So whether you need a print interpreted, a file converted or a new part designed – we're here to ensure that you don't bring an incorrect print, model or measurement to the sample phase. 
2D drawings and prints
Fairchild's Engineering team can quickly create production-ready 2D drawings for rubber and plastic components (among other materials) that accurately depict the way your parts need to be built.
Our 2D prints:
precisely depict your part with clarity

can be converted easily to 3D models

save time and money through quick print turnarounds and fewer design iterations
3D models for rubber and plastic parts
Need a project designed? Have a part that needs to be retrofitted into a larger assembly? Using SolidWorks, our engineers can take a physical part or print and create a precise 3D model out of it. Let our accuracy in the design phase save you time and money further down the path to manufacturing.
Our services:
come with value-added material and design expertise

provide greater depth of detail design on molded and extruded parts

reduce the amount of iterations from concept to a final design
File conversion services
Designers and engineers commonly find the CAD data they need isn't in the right file format for their specific software. Fairchild's Engineering Division can easily convert data "from" and "to" other design and manufacturing tools.
Work with Fairchild to save time on your designs, reduce development costs and get your CAD data into the proper format.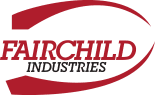 Designed in the USA.
Sourced with our customer in mind.