Engineering Services –

Frequently Asked Questions
Are you just a services company?
No, Fairchild Industries will work with you from design to development through distribution to your dock.
Do you make production parts?
Yes, we design, test and manufacture production parts.
What CAD software package do you have?
We use one of the most innovative solid modeling software packages on the market, SolidWorks.
What simulation software package do you have?
Fairchild has invested in an industry leading software package, SIMULIA Abacus.
What types of parts can you design?
Fairchild specializes in rubber and plastic part design including automotive rubber parts, molded rubber & plastic parts as well as extruded rubber and plastic parts. Some of our most common applications include:
Door seals

Window Seals

Rubber and plastic grommets

Rubber bumpers
Do you design blowmolded parts?
Do you design thermoforming (vacuum forming) parts?
What kinds of files can you handle for file conversion?
Fairchild's Engineering Department can work with just about any type of file you send over.
What are your capabilities as it pertains to metal parts?
Today we create a small amount of metal parts, mostly with metal as part of assemblies. We can also reverse engineer plastic parts out of metal parts.
How quickly can you prototype rubber parts?
The timetable for prototyping a part depends on whether a design file is accessible or needs to be created. Actually printing a prototype takes hours at a time.
What types of materials do you use to 3D print?
For Polyjet printing, we use a light-curing material that comes in many colors based on our partners' needs. For FDM we print ABS plastic as well as other materials if notified by our partner.
Simulation/Validation/Testing 
What sort of FEA tests do you offer?
Compressions Load Deflection (CLD)

Leak Detection Analysis

Retention/Insertion Analysis

Vibration Analysis

Fatigue/Cycle Testing

Acoustic Analysis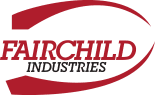 Designed in the USA.
Sourced with our customer in mind.